Contrary to popular belief, hiding your money, jewelry or other valuable items in unusual places will not keep the 'bad guys' from finding them – but it may make it a bit more difficult.
You can be quite certain if a thief were to break into your home, they will tear apart any and everything to find your valuable items. However, there is a good chance they won't want to spend a whole lot of time having to ransack the place.
The longer it takes them to find something worth taking, the bigger chance they will get caught. This means you should not hide your money or other valuables in areas that are easy to find and obvious.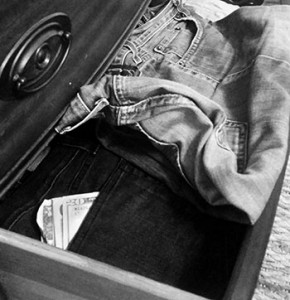 5 of the worst places to stash your valuables include:
1.The toilet tank: The only thing that should go here are the deodorizers that turn the water blue. Any thief will make this a go-to spot to find valuable items.
2.The clothes hamper: Smelly, dirty clothes are not an effective deterrent for a criminal with a mission.
3.Anything that has a lock: If it locks, it's a target.
4.The freezer: While burglars may not spend too much time digging through the freezer, there is a good chance they will give it a second look if it appears out of place.
5.Your child's room: The kid's bedroom are a definite hot spot for burglars so be sure to keep valuables out.
The Right Solution
If you have cash, jewelry or some other valuable items, you don't want it to be easily found if your home is broken into. You need to think of some creative spots to stash these items. However, keep in mind, if you want a surefire way to prevent your home being targeted, have a home security system installed.