There is no question that the kitchen is the heart of the home – especially during Thanksgiving. Everyone loves to be involved in the preparation of a big meal and there is no better time of year to spend time with your family. However, when you are ready to get cooking, there are certain safety tips that will ensure everyone remains safe and sound.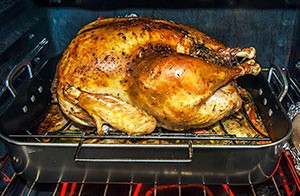 • Remain in the kitchen when using the stove to ensure no issues arise or kids grab something they should not.
• Keep children away from the stove when it is hot.
• Check the turkey regularly.
• Be sure the floor remains clear to prevent trips and falls.
• Keep all knives out of reach of children.
• Be sure your smoke alarms are working properly.
The Turkey Fryer
Another popular method for cooking turkey is deep frying. There is no question that a deep fried turkey is delicious; however, this new found trend in Thanksgiving gobbler preparation is also quite dangerous if proper precautions are not taken. There are a number of reasons that turkey fryers are a serious concern in regard to fires and injuries, including:
• When the turkey is initially placed in the fryer, the oil may spill on the burner, which can cause a fire.
• Fryers may easily tip and spill oil onto anyone nearby.
• There is no thermostat controls on most turkey fryers, which means that the oil can easily become overheated.
• The handles and lid on turkey fryers become hot quickly and can cause burns.
To remain safe during Thanksgiving, you should abide to the tips here. Also, be sure to use common sense when in the kitchen and cooking. Ensuring your smoke alarms are working properly will ensure everyone remains safe and can enjoy this special family time together.