As technology increases, so do the options for keeping a home safe. One option for enhancing your home and your family's safety is to install security cameras. These cameras are designed to monitor home activity and help to deter a break-in.
Prior to purchasing a security camera, you should understand the options that are available.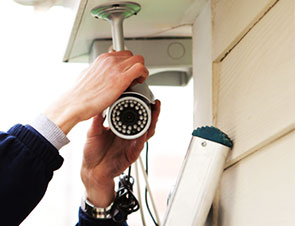 Types of Security Cameras
When selecting a security camera for protecting your home, you need to find one that meets your specific needs. To determine this, think about the type of home you have and how the cameras will be used. Some of the most common types of security cameras include:
• Dome: Spin quickly in the surroundings and are not supposed to be seen.
• Bullet: Mounted to a specific point in a certain area and mostly used indoors.
• Infrared vision: Will capture images even when extremely dark.
• Day/Night: Used mostly on the exterior of homes, these cameras will adapt to the lighting around them.
• Varifocal: Will allow the operators to focus and zoom into images.
Features of Security Cameras
Once you have selected a type of security camera, you should assure it offers the features that you need. Some features you should remember when trying to purchase security cameras include:
• Ability to view the footage remotely
• Sensors that are motion activated
• Quality resolution
• Night vision
• DVR hard drive to record events or certain periods of time
When you find cameras offering these specific features, it will help to enhance the quality offered by your home's surveillance system. When it comes to keeping your home and family safe, it is essential to find a security camera that meets your needs.