There is no question that the best way to protect your home, valuables and family is by installing a quality home security system. A security measure that is often overlooked, but just as important is changing the locks on your home's doors.
If you are like most homeowners, you likely don't give much thought to purchasing new or re-keying your current locks. This does not mean you have to change them as frequently as you would the batteries in your smoke alarm, but that there are times when you should consider rekeying or replacing the locks, which include: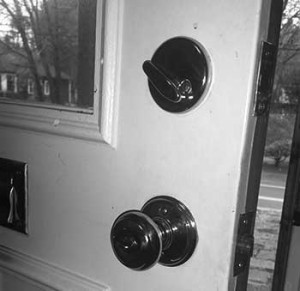 • When you move: When you purchase a new home, or move into an apartment, this is the perfect time to change the locks. In some cases, the previous tenants and owners will still retain copies of keys, even though they are supposed to turn them all in. They may have also given a copy to someone else in the past. When you install a new lock, you will have complete peace of mind that your keys will not fall into the wrong hands.
• If you lose or misplace your keys: It is important to always rekey or replace your locks if you have lost a set of keys, or if they are stolen.

• If someone broke in: If you have experienced a break in, the criminals may have found your spare keys lying around. This is why it is essential to have the locks changed, or rekeyed, before they have the opportunity to return.
• After a break-up or divorce: Ending a relationship or a marriage can be difficult. In some cases, if the break up is not amicable, you should ensure your safety by changing the locks that your ex may have a key to.
If you want to ensure you, your home and your loved ones are protected, you should install a home security system and be ready to change the locks if any of the highlighted life events occur. Selecting the best biometric device will be based on your needs. A fingerprint reader is typically portable and small, ideal for use on an office desk. They are ideal for the identification of a single user.
These are affordable, but typically can only be used for up to 100 different people. The commercial iris and retina scanners can cost between $2,000 and $10,000 each and considered somewhat invasive. However, they have the highest accuracy rate of any product on the market. It is important to consider all the options prior to making a choice. This will help ensure the best possible one for your business is selected.